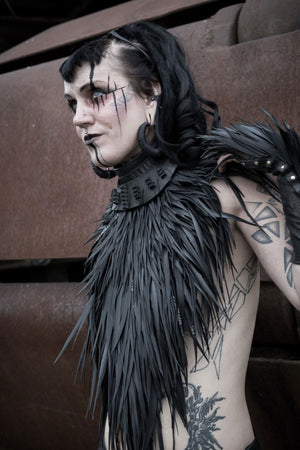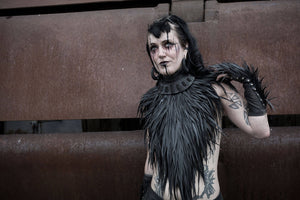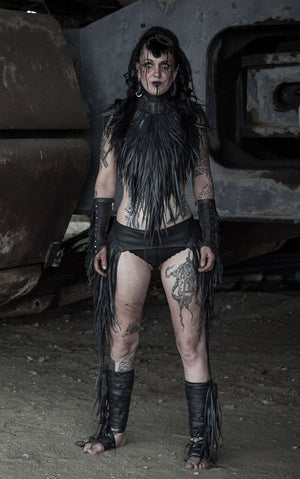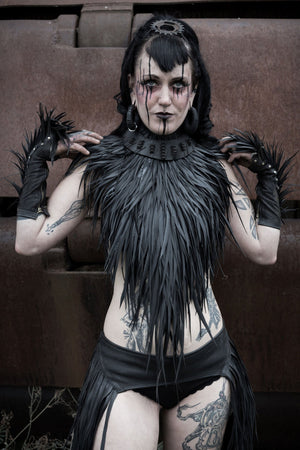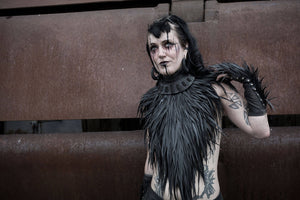 Rubber Feather Neckwear
**Design Recently Upgraded!**
Made out of recycled bike tire inner tubes which have been carefully cut into thin strips, and then sewn on with different lengths. Covering the front of the body and shoulders, this is the perfect piece to finish off that costume for burning man or costume/fetish parties. 

The feathers have a very interesting way of moving, and it makes for a great statement piece. All eyes will be on you! Wait till you feel how it works on a dancefloor...

The 'Rubber Feathers' are some of Nikinga's signature creations. Seen around the world, you will recognize instantly where it came from. Loved by all genders, and elegant upperclass to dirty punks, everyone loves the irresistible look and feel of rubber feathers. 
Features: 

>The base pattern is made from recycled leather, which has been cut to fit comfortably on your shoulders and neck. 

> Closes in the back with either a buckle or snaps.

> Inside is lined with a smooth satin fabric.
> All the recycled bike tires have been carefully processed and washed in high temperatures to make sure they feel like brand new. 
> Choose between Brass or Silver coloured rivets. 
***This creation will be custom made when you order it. Please allow some time for us to prepare it perfectly just for you.  We will send you a message to ask about sizing**