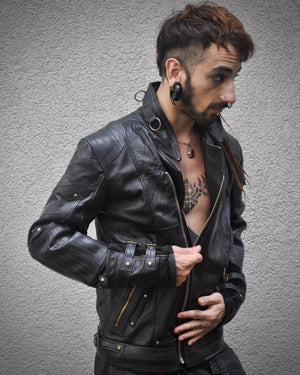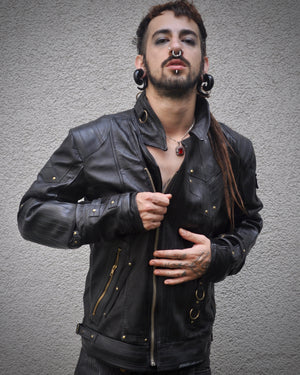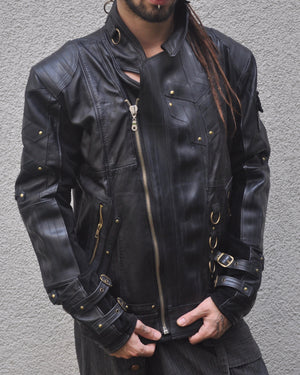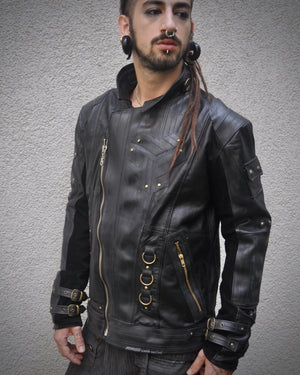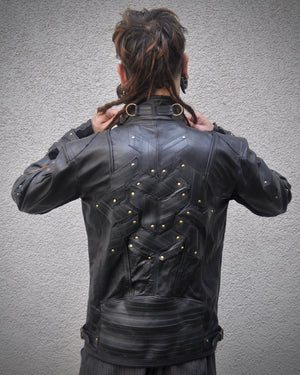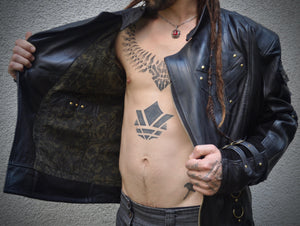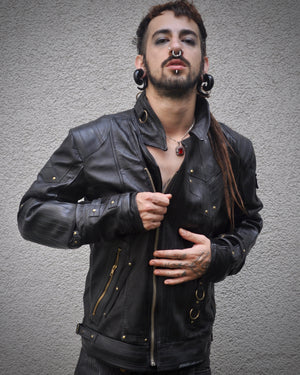 Apocalyptic Gangster Jacket
Are you a badass who wears leather and ride around on heavy machinery, but you also believe in a balanced universe and love sacred geometry? 

Then this is your jacket! 

CUSTOM MADE ONLY!!!!

This is a one-off jacket made by my own hands in Berlin, inspired by ideas of spiritual-motorbike-riding gangsters. I created this elegant jacket from using recycled leather. It is almost an ancient tribal feeling I get when I upcycle leather; I have to find the right victim (not too damaged), I have to skin it with a knife to collect the skin, then I need to take it home and clean it until it is ready to be used. You could even call it vegan leather.
Then there is all the rubber geometric details integrated in the unique design.... I collected that from recycled bike tires. Talk about sustainable wear! This is the future, and hopefully we are moving faster and faster into this kind of creation process in the world.

Features of YOUR new jacket include:
> All of the metal components are brass coloured (zippers, buckles, rivets, rings, etc,,,) 
> The inside fabric is an elegant Victorian decoration style in army green and black.

> The outside front pockets can be closed with a zipper to keep all your belongings safe inside.  There are pockets on the inside for objects no one else should touch. 

>It closes with a front zipper, and has buckles on the side to allow you to adjust the size. .

>Not only is all the leather in this jacket recycled, but there are also details and decoration made from recycled bike tire inner tubes.