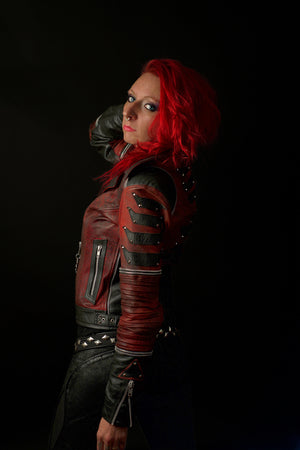 Exo/Derm/XX Blood Ruby Jacket (Silver)
I had many intensions when designing this jacket. Most important was to make a motorcycle style jacket that is actually comfortable to wear, and still looks cool as fuck. It should be hot and toasty, but able to wear it in the warmer seasons. To pull that off, I made the sleeves a little wider than most motorcycle jackets so you can wear a sweatshirt underneath. To top it all of, I wanted to it have that extra cyborg kick to it. I did that by adding the unique vertebrae patterns to the shoulders and back. 
 Features include:
There are 2 outer pockets with zippers for your hands that are lined with cotton satin. There are 2 inside pockets designed to fit your smartphone that close with velcro. And most importantly, there are some super secret pockets under each armpit. See if you can find it. These pockets are so well hidden that even our tailors didn't see them at first!
Made with a beautiful soft red leather that is sustainable and locally-sourced from Java. We love to work with and wear leather, but don't like the destruction of earth and abuse of animals. So we make sure to use the best and safest leather we can find. 
There are buckles on the side of the waist so you can adjust the size.
There is a lot of metal hardware decoration to really give that futuristic industrial look that we at Nikinga love so much. 
You can make the wrist cuffs tighter with an adjustable zipper. 
Shoulder and lower back padding. Because it looks badass.
The inside lining is made out of a smooth black cotton satin.
Available with either brass or silver colored hardware.
If you choose the custom option, we will happily make this jacket in another color of your request. Send us a message and we will get back to you as soon as possible about what the availabilities are. Please be aware that there is a 4-6 week production time on custom requested orders.