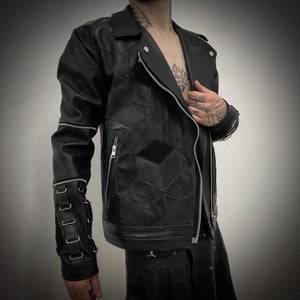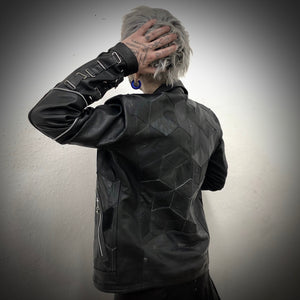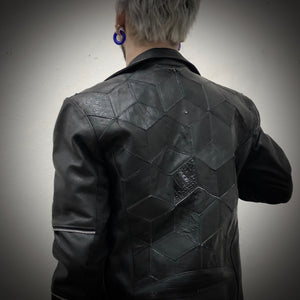 Black Diamond Jacket
Are you a badass who wears black leather and isn't afraid stomp around in a junkyard, but you also believe in a balanced universe and love sacred geometry? 

Then this is your jacket! 

This is a one-off jacket made by my own hands in Berlin, inspired by how diverse the colour black can be. I make post apocalyptic style costumes by request, and one way I achieve the perfect distressed look is by using recycled leather from sofas, or jackets. Then I save all my scraps. This jacket is made by upcycling the recycled, and carefully cutting it into hexagonal shapes. The effect of all the different shades of black together in sacred geometry is really something special. 

Features include:
> All of the metal components are silver coloured (zippers, buckles, rivets, rings, etc,,,) 
> The inside fabric is an elegant Japanese fabric with Sayagata pattern print in purple and gold.

> The outside front pockets can be closed with a zipper to keep all your belongings safe inside.  There are smaller pockets on the inside for objects no one else should touch. 

>It closes with a nice chunky zipper, and has buttons to adjust how much you want to pop your collar.

>Not only is all the leather in this jacket recycled, but there is also many details made from recycled bike tire inner tubes.