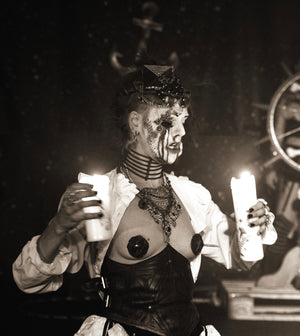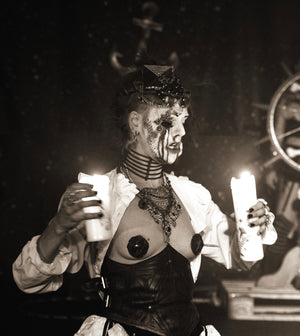 Future Victorian Underbust Corset
This underbust corset was made by mixing inspiration of future sci-fi fashion, Victorian styles, and kinky fetish parties. It holds your bosom gently and give you great posture while wearing. Looks great on its own, or on top of loose fabric for a more pirate look. 
It's stunning appearance is made with an intricately hand-cut sacred geometric patchwork of up-cycled rubber from bike tire inner tubes, that was carefully sewn onto a base of recycled leather. All black with gorgeous brass coloured hardware (buckles, rivets, and eyelets). Opens in the back with adjustable lacing. 
Shown here is the one available to purchase, but I also enjoy making custom orders in this style.