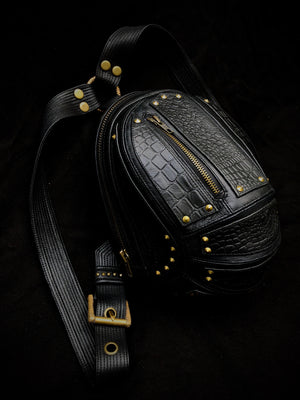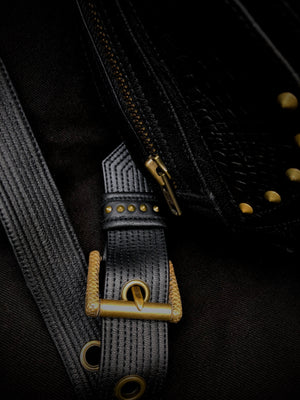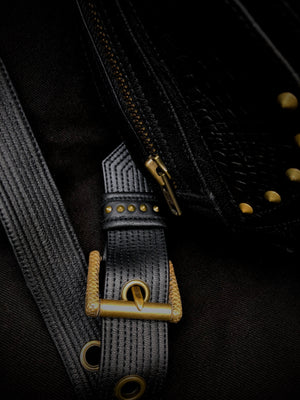 ONYX Micro Carapace Bag (Brass)
This designer backpack is elegant, durable, and practical. Like the hard shell of a turtle, the shape is crafted to withstand the wear and tear of real life. If dropped, your valuables inside are protected through the well-thought-out construction. It is resistant when exposed to weather changes and has a protective coating that keeps the leather intact.

These will fit in at a posh London restaurant or a famous night club in Berlin. Whether you are a DJ at LA's hottest venue or the fashion forward employee of a start-up in New York, this bag will take you through your day and into your night. You'll easily be able to carry phones, sunglasses, keys, passport, and the all-important post-club Tylenol. 

Don't be fooled by its dimensions, with a size of 27x20 cm (10.6x8") it can easily hold up to 5L of volume. This bag is not just a black hole to throw your essentials into, there are a number of specialized pockets for you keep your small and valuable items hidden.

From original designs to customized leather to unique printed lining fabric, our designer Nikita supervises the entire creation of the Carapace bag that will last for years. Its outstanding design and style mean this bag is featherlight against your body. Because of the clever assembly of the straps and high-quality leather, you will forget you have it on.

A core value of Nikinga is to pay attention to details from inception to production. We take care that all of the materials are specially picked and treated to create our signature bags. Furthermore, we take pride in the use of Javanese goat leather to avoid cow or pig leather from polluting mass production sources.

Our team of leatherworkers are paid fair wages to encourage a sustainable vision for everyone involved in the creation of these unique bags that we can only produce with the help of their skilled work.

This is a distinctive, high quality and sustainable bag that we are proud to offer to the discerning buyer.
Features:
The outer shell of this backpack is made from black leather, with black crocodile skin printed leather decoration. 
High quality rust-resistant brass metal components (YKK zippers, rings, buckles, and rivets). 
Inside lining is made from a special printed Nikinga fabric. 
Adjustable straps with a buckle that come down to the middle of your back, which makes it cleave evenly onto your body and an equally disperse weight.
One large main compartment, front zipper pocket, inside passport pocket, and a secret hidden pocket (see if you can find it!)